Nebula Ensemble performs Chemins Perturbé for ensemble
at Peter Claver Recital Hall, Regis University on Monday, March 7th at 7:30 pm Mountain Time. Free admission.
I'm really excited to be collaborating with Nebula Ensemble in Denver for another piece! Chemins Perturbé — for flute, clarinet, guitar, mezzo soprano, violin, and viola — is a brief but ambitious work that is really something you want to hear live! This will be the first live performance of my music (with an audience) since the pandemic began, so it is fitting to be programmed on a concert titled "Out of Lockdown. Find details and more events from Nebula on their website: https://www.nebulaensemble.org/events/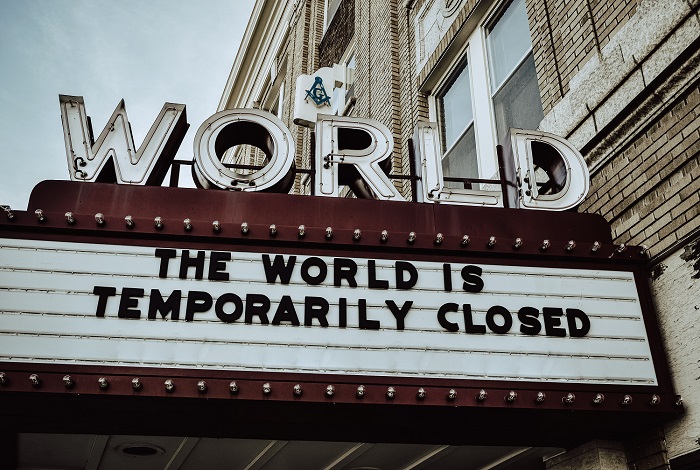 "Spark Duo (Kate Amrine, trumpet and Ford Fourqurean, clarinets and electronics) performs at Spectrum, Sunday, September 8th at 3 pm.
Spark premieres a set of new works by Howie Kenty, Edmund Scott Miller, and Jinhee Han. Howie Kenty's It Wasn't Something We Could Control uses the words of Jason Rochester and Cecilia Gonzalez, a couple now living separately in Georgia and Mexico, respectively, because she came to the USA illegally years ago, and is unable to return. Jinhee Han's echo me (ii) is from her series 'Echo me', which is inpired by a cirque du soleil Volta performance in Montreal, 2017. The program also features duos by Michael Lanci and inti figgis-vizueta, as well as the premieres of new solo works by Niloufar Nourbakhsh for trumpet and Ford for clarinet.

Sunday, September 8th, 3 P.M.
Spectrum
70 Flushing Ave, Garage A, Brooklyn, NY 11205
Cost: $15 / $10 for students
Sunday, February 25, 2018 at 2pm – Baltimore Classical Guitar Society 30th Anniversary Concert
Linehan Concert Hall, UMBC, Baltimore, MD  —  $10-15
I am very honored to have written a piece commemorating the 30-year anniversary of the BCGS! My guitar duet "Storied" will be premiered at the event, Made in Baltimore,  by the truly astounding Jeremy Lyons and Zoe Johnstone Stewart. "Storied" was inspired by Baltimore in a number of ways. First, is my interest in the special character of the city's architecture, a mix of old and new, rebuilt and abandoned, that so often gives cities their distinctive appearance. This is manifested musically through an obsession with layered ideas, representing both the stories of a building, and also the coexistence of disparate architectural styles side-by-side, sometimes seemingly on top of one another. I was not interested, however, in using musical style as an analogy for architecture, so the work is fairly unified in order to convey a single Baltimore. This is an optimistic representation rather than a journalistic one, and the second meaning of the title alludes to the complex history of the city, which helped shape and unify our nation in its earliest form, even while dividing its own citizens. We must be careful never to romanticize our history, but remember that we can learn from it and correct our mistakes without diminishing those aspects of our past worth celebrating. 
Saturday, December 9, 2017 at 7pm – Omnibus Ensemble in Berlin
RadialSystemV, Berlin, Germany —  Turbulenzen Festival  —  29,60 €
The incredible Omnibus Ensemble is performing my piece "Moment(s): Various/Concerted" at the Turbulenzen Festival in Berlin. This marks the first performance of my music in Europe and I am honored to have such high-caliber musicians presenting my composition. Tickets and more information are available here. 
Saturday, October 28, 2017 at 5:30pm – Nebula Ensemble:

VERSE//CHORUS//NOVA

 

Hamilton Recital Hall, Lamont School of Music  –  Free admission
My latest composition "At that point (again)" was commission by Nebula Ensemble especially for this unique concert. I was very exited to get out of my comfort zone and write a piece inspired by pop music. One of my favorite Billboard-topping artists right now is Bruno Mars, whose music I borrowed from, incorporating elements of his R&B-infused style with my own voice.
"Nebula Ensemble is blurring the lines between classical music and pop in this fun-filled evening of concert music inspired by Billboard Hot 100 hits. C'mon and get down to an eclectic batch of toe-tapping, zeitgeist-7 numbers that will tickle your brain and put a smile back on your face!"
Sunday, March 19, 2017 at 5pm – "Songs of Self" concert will include the premiere of three Yeats Songs. 
Amanda Williams, soprano and Joshua Espinoza, piano, are among the performers on this collaborative concert. Amanda has chosen to sing an excerpt from my Yeats Songs. This will be the premiere of these three songs: "Before the World Was Made," "Death of a Hare," and "Old Memory."
A diverse group of Baltimore's most prolific performers are coming together in a collaborative concert of self-chosen music that speaks to the identity of the musician. Amanda Williams (Soprano), Claire Galloway Weber (Mezzo-Soprano), DeCarlo Raspberry (Baritone), and Joshua Espinoza (Pianist) have each chosen music that they fell represents themselves as individuals. Led by composer, Frances Pollock, Songs of Self examines personal narratives and asks the question, "What happens when we as musicians express the intimate vulnerability of our own personal story through music?"
The group has assembled an incredible line-up of composers that will be featured on the concert, including world premiers by Baltimore's own, Dr. Andre' Godsey, Scott Miller and Frances Pollock. Judith Weir, William Grant Still, and Duke Ellington are other names that will round out the evening. In between each set, the performers will sit with Sr. Rector, David Ware, and discuss the power of their chosen music. The concert will conclude with an opportunity for the audience to meet the performers over a light reception.
Songs of Self is a fundraising concert that will support the performers in traveling to Bowling Green, Ohio for the 2017 New Music Gathering where they will present a panel on diversity in classical music. Admission is free with a suggested donation of $15-$20 that will go directly to funding the group's travel to the conference.
Sunday, March 19, 2017 at 3pm – "Trumpet and Percussion" world premiere in Boston
 Andrew Heath, trumpet
Julian Loida, percussion
Andrew and Julian will give the premiere of a short work (c. 5'30) that I composed especially for Andrew while at AMFS last summer. The piece (for trumpet, vibraphone, triangle, and two cowbells) defies our expectations of brass and percussion by presenting a statement in only hushed, understated sounds.
Beethoven Society of Melrose
Melrose Highlands Congregational Church
355 Franklin Street
Melrose, MA 02176
Omnibus Labratorium: Peabody – Tashkent
On March 12, Omnibus Ensemble will premiere 11 new works written by young American composers. These works were written specifically for Omnibus during the online collaboration, Omnibus Labratorium: Peabody – Tashkent. We are also excited to be performing with the young talented Uzbek conductor Ruslan Bekmaev. 
Jonathan Hugendubler – "String Quartet"
Natalie Drapper – "Chorale Variations"
Christopher Ciampoli – "Penumbra"
Alexa Rinn – "Living was a hawk in the sky"
Connor Elias Way – "A Memory"
Scott Allen Miller – "Moment(s): Various/Concerted"
Cody Criswell – "The Mere Supernatural"
Gabriel Bouche – "Octet"
Carlos Bandera – "In Distanse"
Christian Humcke – "Piece for Mixed Ensemble
Sean William Calhoun – "Braching"
12 March at 20:00 UTC+05
Ilkhom Theatre, Tashkent, Uzbekistan
https://www.facebook.com/events/1872980456277802/
Occasional Symphony Presents: The Phantom of the Opera

– Sunday, October 30, 2016: 5:00 – 7:30 pm  –  
Monday, October 31, 2016: 7:00 – 9:30 pm
Come in costume, and celebrate Halloween with the Occasional Symphony! The live orchestra performs a new film score to Rupert Julian's classic silent film: The Phantom of the Opera.
2640 Saint Paul St.
Baltimore, MD 21218
Friday, August 12, 2016 – Richard Narroway, cello, premieres "Repeat, Descend, Recede"
Richard will give the world premeire of my solo cello piece, "Repeat, Decsend, Recede," alongside chamber works by the other nine Composition Fellows at the 
Aspen Music Festival and School. 
Scanlan Hall, Bucksbaum Campus
Aspen, CO
8:30 pm
free
Friday, July 28, 2016 – Aspen Contemporary Ensemble (ACE) with Tim Weiss, conducting, premieres "Most poems go unread"
ACE will premiere my work for septet on the first of two "First Glimpse" concerts alongside 4 other pieces by other Composition Fellows at the Aspen Music Festival and School.
Harris Concert Hall
Aspen, CO
8 pm
S
unday,
 June 5, 2016 –
Western Connecticut Youth Orchestra
, 
Symphony Orchestra gives the world premier of a new work for orchestra
Western Connecticut State University
Visual and Performing Arts Center
Tickets are $15 for adults and children 12 and over, and $10 for seniors and children under 12.
Tickets will be available at the door the afternoon of the concert.
Hajime Teri Murai, Music Director – Michelle Shin, Violin, Winner of the Peggy and Yale Gordon Concerto Competition – Scott A. Miller II: Pillars, erased (Winning Work in the 2015 Macht Orchestral Composition Competition); Sergei Prokofiev: Violin Concerto No. 1 in D major, Op. 19; Dmitri Shostakovich: Symphony No. 10 in E minor, Op. 93
Friday, December 11, 2015 – 8p – Nathaniel Gworek plays And passes, leaving behind for solo percussionist
University of Connecticut, Storrs Campus
Von der Mehden Recital Hall
August 09, 2015 – 7:00 p.m.  –  Hudson Music Hall, Hudson Falls, New York – Decho Quartet
works by Florio, Singelée, Knorr, Lacni, Bach, Piazzolla, Miller, and Glass 
August 07, 2015 – 7:00 p.m.  –  Westminster Presbyterian Church, Albany, New York –Decho Quartet
 works by Florio, Singelée, Knorr, Lacni, Bach, Piazzolla, Miller, and Glass